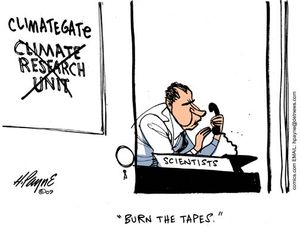 A shadowy lobby group which pushes the case that global warming is a real threat is being funded by the taxpayer and assisted by the BBC.
The little-known not-for-profit company works behind the scenes at international conferences to further its aims.
One of its key supporters headed the official investigation into the so-called "Climategate emails", producing a report which cleared experts of deliberately attempting to skew scientific results to confirm that global warming was a real threat.
Another scientific expert linked to the group came forward to praise a second independent investigation into the Climategate affair which also exonerated researchers.
Set up with the backing of Tony Blair, then the Prime Minister, and run by a group of British MPs and peers the organisation, Globe International, started life as an All Party Group based in the House of Commons.
It is now run as an international climate change lobbying group flying its supporters and experts club class to international summits to push its agenda. Last year, it said, it spent around £500,000 flying its supporters to these meetings.