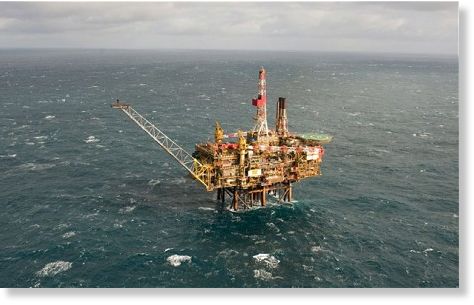 An oil spill from a Shell platform has become the worst in the North Sea in a decade, it was disclosed last night.
Government figures show that the 216 tonnes of oil which have already entered the water have exceeded the annual totals for the area for the last ten years.
Environmentalists said the light crude oil posed a "serious risk" for thousands of young birds, including puffins and guillemots, if they came into contact with it.
Oil began to escape from part of the
Gannet Alpha
drilling rig about 112 miles east of Aberdeen last Wednesday.
Engineers have slowed the leak but have so far failed to totally stop it, with the equivalent of around five barrels a day continuing to escape.
It is very small compared to the BP oil spill in the Gulf of Mexico last year, in which 4.9 million barrels of oil escaped at a maximum rate of around 62,000 barrels a day.