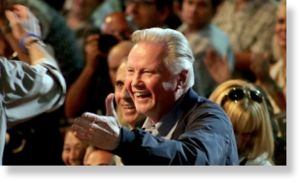 The Oscar-winning actor is in Israel with Glenn Beck's 'Restore Courage' tour, receives standing ovation for saying 'we will not bend to terrorism in any way, shape, or form for the sake of peace', Israeli media reports.
John Voight, an American Oscar-winning actor who is in Israel with conservative political commentator Glenn Beck on a tour to "restore courage" slammed Palestinians in Jerusalem Monday night, comparing the current political situation to a "new holocaust," the
Jerusalem Post
reported on Monday.
"How have we come to a time when blowing up babies and cutting their throats are an acceptable means to a political goal?" Voight reportedly asked, referring to the March attack on the Fogel family in the West Bank settlement of Itamar.