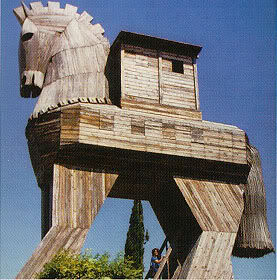 Farmers, Indigenous people and rural communities around the world celebrated the
International Day for Biological Diversity
last week. But casting a long shadow was the news that big funders and new NGOs are
teaming up
with the pesticide-biotech giant, Syngenta, in a renewed effort to push genetically engineered rice forward in Bangladesh and the Philippines.
Nicknamed "golden rice," this untested, highly controversial GE crop threatens biodiversity across the region and risks bringing economic and ecological disaster to Asia's farms.
The Bill and Melinda Gates Foundation has approved $20 million in new monies towards the
development of "golden rice"
. Meanwhile,
Helen Keller International
(HKI), a New York-based health and nutrition NGO, has also jumped on board.
Speaking from Malaysia, Sarojeni V. Rengam, Executive Director of Pesticide Action Network Asia and the Pacific (PAN AP)
called
on the donors and scientists involved to wake up and do the right thing:
Golden Rice is really a 'Trojan horse'; a public relations stunt pulled by the agri-business corporations to garner acceptance of GE crops and food. The whole idea of GE seeds is to make money.

On this International Day for Biological Diversity, we want to send out a strong message to all those supporting the promotion of Golden Rice, especially donor organizations, that their money and efforts would be better spent on restoring natural and agricultural biodiversity rather than destroying it by promoting monoculture plantations and genetically engineered (GE) food crops.