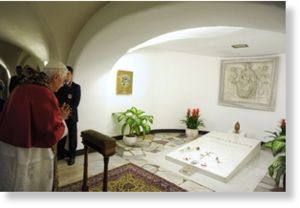 Evidence is mounting that the pope will soon approve the miracle needed to beatify Pope John Paul II, setting the stage for a major celebration this year for a Catholic Church trying to recover from the clerical sex abuse scandal.
Italian news media have been reporting that in recent weeks Vatican-sponsored panels confirmed that a young French nun was miraculously cured of Parkinson's disease after praying to the Polish-born John Paul.
Pope Benedict XVI now must sign off on the miracle and set a date for the beatification, the first major step to possible sainthood.
Polish Bishop Tadeusz Pieronek, former No. 2 of the Polish Bishops' Conference and an old friend of the late pope, told The Associated Press on Thursday that he understood an announcement could come Friday, though he stressed he didn't have independent confirmation.
He said the beatification date could be as early as May 1, though other reports have said it would be later in the year given the enormous preparations that will be necessary to host the influx of pilgrims for the event.
On Thursday, workers began restoring a mosaic in a chapel near the entrance of St. Peter's Basilica, where John Paul's remains presumably would be moved for better public access once beatified.