The pepper spraying of UC Davis students shocked the nation, but the persecution that the Davis Dozen protesters face is far worse.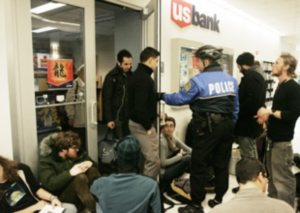 The pepper-spraying of University of California Davis protesters on November 18, 2011 promised to be a galvanizing moment for the student movement after University Police Lieutenant John Pike
used military grade pepper spray
at point blank range on seated protesters who had peacefully assembled to demonstrate against tuition hikes at UC Davis. The world took notice. Not only did the Lieutenant Pike pepper-spray "meme" spread like wildfire on Facebook and Twitter, major news outlets gave the event coverage, to varying degrees of depth and understanding.
But it seems that the University administration has successfully evaded scrutiny of the role it played in a series of events that began in January at UC Davis when 12 protesters, some of whom had been pepper-sprayed in November, staged another peaceful sit-in at the campus branch of US Bank. The sit-in was an important political action in defense of public funding of the University and against the replacement of that funding by private contracts with corporations. The protestors won an enormous victory when US Bank closed it University branch on February 28, possibly breaking its agreement with UC Davis.