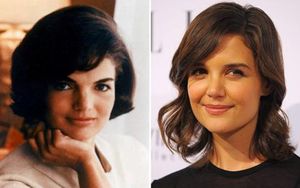 A £20 million mini series about slain John F Kennedy is unlikely to ever be shown in the US after pressure from his surviving family members.
Maria Shriver and Caroline Kennedy are reported to have lobbied hard for the History Channel to pull the plug on the series.
The eight part film, which stars Katie Holmes as First Lady Jackie Kennedy and Greg Kinnear as JFK, was due to air in the US later this year.
But TV insiders said it was unlikely the series will ever be shown after being branded historically "inaccurate".
Among the most controversial parts of the film were scenes depicting JFK as a "sex fiend" and telling his brother of his need to sleep with women other than his wife.
The series was billed as "an inside look behind the secret doors of the White House," which also "unveils the secrets of the Kennedy family."