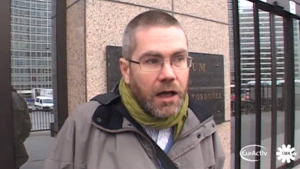 Irish journalist David Cronin made international news headlines on Tuesday when he attempted a citizen's arrest on Avigdor Lieberman, the Israeli Foreign Minister in the EU Council in Brussels.
Cronin is an author and long time pro-Palestininan activist. He previously attempted to place former UK PM Tony Blair under Citizen's arrest, failing in both attempts so far.
His action's have led to him having his journalist accreditation revoked, a small price to pay, he says.