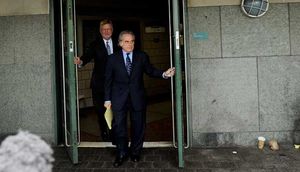 Where there is shocking news, there must be a conspiracy theory. So it is that the arrest of IMF chief Dominique Strauss-Kahn's arrest for sexual assault has spawned its own spate of wild speculation. "The hypothesis of a piege, or trap, set by his political enemies is taken surprisingly seriously by some intelligent people, to whom the idea that a man in his position would assault an unknown woman in the middle of the day seems improbable enough to feed a certain paranoia," writes Adam Gopnik in his
New Yorker blog
.
Or as an acquaintance exclaimed over lunch yesterday, "It's crazy! Why would a guy in his position do something like this." Surely a powerful, wealthy man who can afford a $3000-a-night hotel room can easily buy his pleasures - if not get them for free. This is after all a man who was known in France as "the great seducer." A reputation supported by none other than his own wife, Anne Sinclair, who told
L'Express
magazine, "It's important for a politician to be able to seduce."
Even those who don't subscribe to conspiracy theories are wont to view the incident as a bizarre, temporary loss of self-control. A passing moment of madness, perhaps. Yet a closer look at Strauss-Kahn's long sexual history reveals several other such "moments" - and indeed a conspiracy, not of his rivals, but his supporters to keep his true identity out of the spotlight.