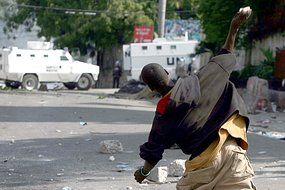 United Nations peacekeepers from Nepal brought the strain of cholera to Haiti responsible for an epidemic that has killed 5,500 people, according to a study published by the US Centers for Disease Control and Prevention.
The study is the first to establish a direct link between the arrival of the Nepalese UN battalion near the small town of Mirebalais and the cholera epidemic that erupted in mid-October 2010.
On Thursday in New York, UN acting deputy spokesman Farhan Haq said the agency was "aware of the report and as with other prior reports, we will study its findings diligently."
The research, led by a group of French doctors, appeared in the CDC's July issue of
Emerging Infectious Diseases.