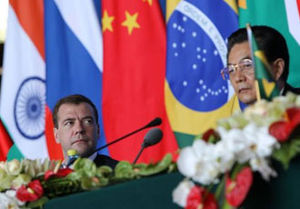 The BRICS nations, Brazil, Russia, India, China, and South Africa are taking shots at the dollar again. At the end of recently concluding meeting in China, their development banks agreed to open credit lines denominated in their own currencies rather than the world's reserve currency, the US dollar.
The plan was announced in the backdrop of a weak dollar something the BRIC nations fear will erode the value of their foreign exchange reserves held mostly in the US currency. This isn't the first time these countries have called for an alternative monetary regime.
And while this is a hint that the US will have to work hard to defend the credibility of its currency, experts say it is unlikely to end the dollar's dominance any time soon.