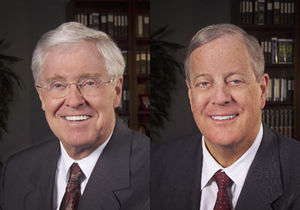 Koch Industries has launched a website and is buying advertisements on Google and Facebook to counter news stories critical of the politically-active company.
Charles and David Koch, owners of Koch Industries, were principle financiers of Wisconsin's Republican Governor Scott Walker and the tea party movement. They are also supporters of groups like Americans for Prosperity, the Cato Institute, the Competitive Enterprise Institute, and the Reason Foundation.
In response to a
story by the Center for Public Integrity
that outlined Koch's multimillion-dollar lobbying network in Washington, Koch Industries has started an ad campaign targeting the nonprofit organization.
The Center for Public Integrity has a screen shot of the Google ad, which says "Slanted Reporting on Koch: Bias, hidden agenda at the Center for Public Integrity" after a search for the words "Center for Public Integrity" and "Koch." A similar ad is also apparently on Facebook.