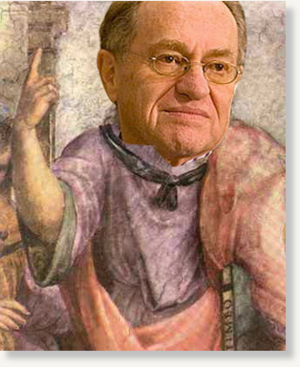 It is possible that when they circumcised Alan Dershowitz, they binned the wrong bit. Following the recent devastating chain of nuclear disasters in Japan, the lame Zionist advocate has managed to draw the most astonishing conclusion: "Israel Has the Right to Attack Iran's Nuclear Reactors Now".
Here is Dershowitz' fascinating, logical, algorithm for us to consider:
"The recent disaster in Japan has shown the world the extraordinary dangers posed by nuclear radiation"
"If Iran were to develop nuclear weapons, the next ship destined to Gaza might contain a nuclear dirty bomb"
"A dirty bomb detonated in tiny Israel would cause incalculable damage to civilian life."