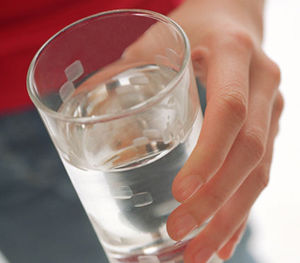 Fluoride's been added to municipal water supplies for decades to prevent cavities, but authorities think it's time to lower the dose.
On the heels of a new report finding that 89 percent of
city tap water
supplies tested are contaminated with cancer-causing chromium-6, two government agencies are announcing that there could be too much of something else in your water, as well - in this case, something that they put there on purpose.
On Friday, the Department of Health and Human Services (HHS) and the Environmental Protection Agency (EPA) jointly announced that "based on the most up-to-date scientific data," they want to start cutting down on the amount of fluoride that's
intentionally added to tap water
to prevent cavities and tooth decay, and reduce the amounts that creep into water by way of nature and industrial pollution.
The HHS is proposing that its range of 0.7 to 1.2 milligrams of fluoride per liter of water added to water by municipalities be capped at the low end of that range, 0.7 milligrams per liter. And the EPA, which monitors all fluoride (the stuff that's added, plus the stuff that gets in unintentionally), has said that it will review its current limit of 4.0 milligrams per liter. EPA didn't provide a new proposed limit, but just announced that it may revise its current recommendations.