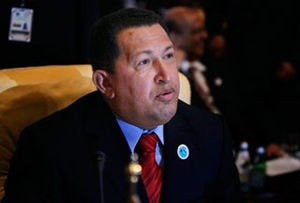 Venezuelan leader accuses U.S. of meddling
Briefed by Libya's Gaddafi and Syria's al-Assad
Venezuela's firebrand leader Hugo Chavez accused the United States on Sunday of a "shameful" role in the Egyptian crisis and of hypocrisy for supporting, then abandoning strongmen round the world.
Chavez, Washington's leading critic in the Americas, said he had spoken to Libyan leader Muammar Gaddafi and Syria's President Bashar al-Assad for a briefing on the protests in Egypt and elsewhere in the Arab world.
"In Egypt, the situation is complicated, Chavez said.
"Now you are seeing comments from Washington and some European nations. As President Gaddafi said to me, it's shameful, it makes you kind of sick to see the meddling of the U.S., wanting to take control."
The United States has urged an orderly transition to democracy in Egypt to avoid a power vacuum but has stopped short of calling on President Hosni Mubarak, an ally of three decades, to step down.
The socialist Chavez has generally cast himself as pro-Arab and opposed to the policies of Israel and the United States.