Puppet Masters
Vodpod
Fri, 15 Apr 2011 00:00 UTC
---
Jason Mick
DailyTech
Thu, 14 Apr 2011 16:38 UTC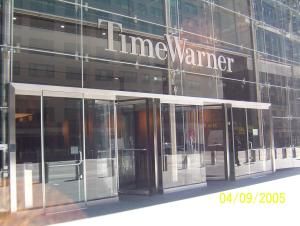 Seven towns pass measures condemning Republican proposal which could rob them of the right to self-governance
We've extensively discussed the controversy and conflict surrounding
Bill H.129
[PDF]. In the face of legislation that
could cripple
their locally funded, voter-approved services, seven towns in North Carolina are striking back, publishing resolutions that condemn the effort.
The towns are urging state Republicans to reconsider the effort they are pushing, which looks to give the State government "blank check" authority to kill decisions made by the local government -- essentially robbing municipalities of their right to self governance.
I. Buying a Bill -- Did Time Warner "Purchase" Legislation?
The local resolutions label the pending legislation a "Time Warner" bill. Time Warner Cable Inc. (
TWC
) enjoys a monopoly on high speed cable internet across much of the state. So is the company responsible for the bill?
Well, it certainly seems that way.
---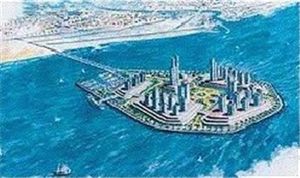 Israel's Channel 2 has revealed an Israeli government plan to set up an artificial "man-made" island off the coast of the Gaza Strip, to be under the control of the Palestinian Authority.
The plan, as reported, was formulated and schemed by the Israeli Minster of Transportation Yaakov Katz, guided and godfathered by Israeli Prime Minster Benjamin Netanyahu. Apparently, the idea has been formulated and detailed by a team of experts for quite some time -- three months according to the report.
The island is planned to sit some 4.5 kilometers from Gaza's shores, and to include Palestinian-operated sea and air ports, tourist accommodation areas, and a desalination plant. The dimensions of the island are drawn at four by two kilometers linked to mainland Gaza by a 4.5 kilometer bridge.
---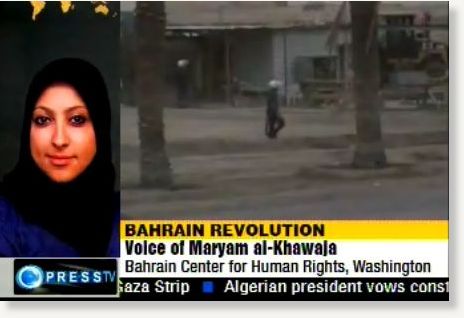 A Bahraini human rights campaigner says political activists detained by the Manama regime undergo torture in the prisons of the small Persian Gulf kingdom.
In an interview with Press TV, Maryam al-Khawaja of Bahrain's human rights center called on the Bahraini authorities to stop their crackdown on anti-government protesters and opposition figures.
"Within only a number of ten days we saw four people were declared dead by the ministry of interior, and the first one they said was from sickle cell anemia, the second one they said had caused a problem inside the prison and thus had to be subdued and then he died from complications and the third one again they said sickle cell anemia, the fourth one they said had kidney failure," al-Khawaja said.
"But then what we saw actually when the bodies were handed over to their families, wasn't just they had torture marks on them, their bodies had bruising and even marks of lashings, so we believe that it's more likely that they have died due to torture rather than the reasons stated by the government of Bahrain," she added.
---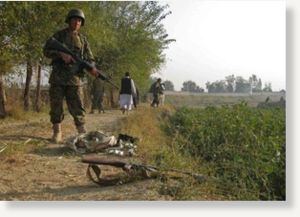 Five foreign troops and four Afghan soldiers died in an attack claimed by the Taliban on an Afghan army base in the country's east, the International Security Assistance Force said Saturday.
Earlier reports had said four people were killed and eight wounded.
A Taliban spokesman, Zabihullah Mujahid, claimed responsibility for the attack in a telephone call to AFP.
The attacker detonated his explosives at the base in the Gambiri area near Jalalabad city, the capital of eastern Nangarhar province, said Mohammad Nooman Hatifi, the Afghan army spokesman for eastern Afghanistan.
A spokesman for the International Security Assistance Force (ISAF), Major Tim James, said there had been "a number of both Afghan and ISAF casualties" in the attack but could not yet give further details.
---
Mike M. Ahlers & Jeanne Meserve
CNN
Fri, 15 Apr 2011 11:57 UTC

Don't like the way airport screeners are doing their job? You might not want to complain too much while standing in line.

Arrogant complaining about airport security is one indicator Transportation Security Administration officers consider when looking for possible criminals and terrorists, CNN has learned exclusively. And, when combined with other behavioral indicators, it could result in a traveler facing additional scrutiny.

CNN has obtained a list of roughly 70 "behavioral indicators" that TSA behavior detection officers use to identify potentially "high risk" passengers at the nation's airports.

Many of the indicators, as characterized in open government reports, are behaviors and appearances that may be indicative of stress, fear or deception. None of them, as the TSA has long said, refer to or suggest race, religion or ethnicity.

But one addresses passengers' attitudes towards security, and how they express those attitudes.

It reads: "Very arrogant and expresses contempt against airport passenger procedures."
---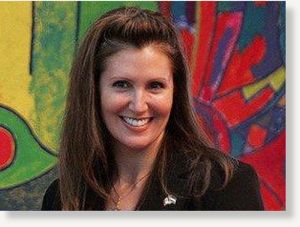 A former Tory minister lashed out at her ex-boss Prime Minister Stephen Harper in the middle of an election Friday for booting her from the Conservative caucus over ultimately unsubstantiated claims.
Now seeking re-election as an independent candidate, Helena Guergis told a press conference Harper "tossed (her) under a bus" last year, and offered no explanation for her ouster nor a chance to defend herself.
A federal police investigation cleared Guergis of fraud, extortion and involvement with prostitutes, including snorting cocaine off a prostitute's breasts.
But the prime minister's office continued to run a "destructive campaign" against her and smearing her reputation with "false allegations," Guergis said.
"Not only was it made to seem I was guilty of conduct that has never been disclosed to me ... the prime minister's office still made it seem as though I was guilty of something even after I had been proven innocent," she said.
A private investigator last year alerted a Conservative party lawyer that Guergis may be vulnerable to blackmail after an associate of her husband boasted of having cellphone pictures of the couple partying with "high class escorts when cocaine was being snorted."
---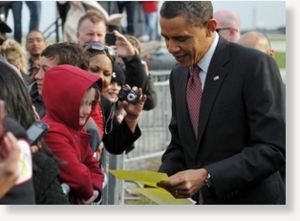 US President Barack Obama accused Republicans of wanting to turn the United States into a "Third World" country as he rallied support for his reelection campaign.
The attack came a day after Obama savaged Republican budget plans and unveiled his $4-trillion deficit reduction drive that aims to raise taxes on the wealthiest Americans in order to preserve key social services.
The debate over fiscal policy will prove critical to the 2012 campaign and Obama sought to frame it as a "stark choice" between investing in the future or watching the country fall apart.
"Under their vision, we can't invest in roads and bridges and broadband and high-speed rail," Obama told a select group of the Democratic faithful at the second of three fundraising events in his hometown of Chicago.
"I mean, we would be a nation of potholes, and our airports would be worse than places that we thought -- that we used to call the Third World, but who are now investing in infrastructure."
---
Richard Cowan & David Alexander
Reuters
Fri, 15 Apr 2011 05:06 UTC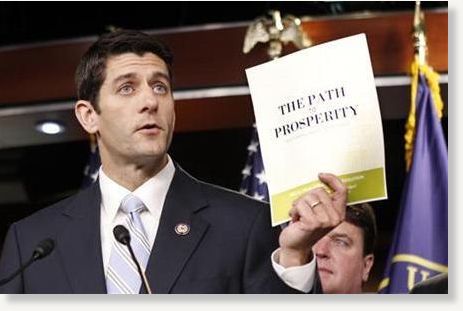 Republicans in the House of Representatives united on Friday behind a 2012 budget plan slashing trillions of dollars in government spending while cutting taxes -- two achievements conservatives say are necessary ingredients for a deal to raise the U.S. debt limit.
The vote effectively serves as the Republicans' opening gambit in what are likely to be contentious negotiations with President Barack Obama and his Democrats over debt and deficits in the coming months. The Congress must decide within weeks on raising the $14.3 trillion debt ceiling.
By a vote of 235-193, the House passed the plan written by House Budget Committee Chairman Paul Ryan for the 2012 fiscal year beginning October 1.
Democrats rejected the measure, which proposes slashing spending by nearly $6 trillion over a decade and reducing benefits for the elderly and poor. All but four Republicans supported it.
There is almost no chance of the Senate approving the measure in its current form.
The White House swiftly condemned the measure but said it was committed to working with Republicans to bring down record deficits that all sides acknowledged imperil the country's economic future.
---
Suzanne Goldenberg
Guardian
Fri, 15 Apr 2011 11:46 UTC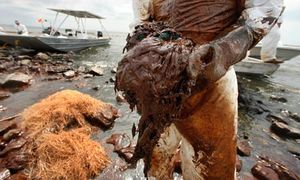 Documents obtained under the Freedom of Information Act show BP officials discussing how to influence the work of scientists
BP officials tried to take control of a $500m fund pledged by the oil company for independent research into the consequences of the Gulf of Mexico oil disaster, it has emerged.
Documents obtained under the Freedom of Information Act show
BP officials openly discussing how to influence the work of scientists
supported by the fund, which was created by the oil company in May last year.
Russell Putt, a BP environmental expert, wrote in an email to colleagues on 24 June 2010: "Can we 'direct' GRI [Gulf of Mexico Research Initiative] funding to a specific study (as we now see the governor's offices trying to do)? What influence do we have over the vessels/equipment driving the studies vs the questions?".
---