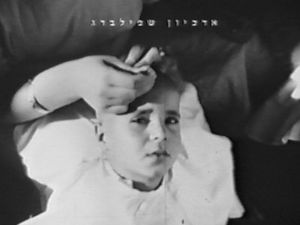 On August 14, at 9 PM, Israel's Channel Ten television screened a documentary film which exposes the ugliest secret of Israel's Labor party founders: the deliberate mass radiation poisoning of nearly all Sephardi youths of a generation.
"The Ringworm Children" (translated in Hebrew as "100,000 Rays"), directed by David Belhassen and Asher Hemias, recently won the prize for "best documentary" at the Haifa International film festival, and in the past year has made the rounds of Jewish and Israeli film festivals around the world. But it had yet to come to Israeli television screens. The subject is the mass irradiation of hundreds of thousands of young Israeli immigrants from Middle Eastern countries -- Sephardim, as they are called today. The story goes like this:
In 1951, the director general of the Israeli Health Ministry, Dr. Chaim Sheba, flew to America and returned with seven x-ray machines, supplied to him by the American army.
They were to be used in a mass atomic experiment with an entire generation of Sephardi youths to be used as guinea pigs.
Every Sephardi child was to be given 35,000 times the maximum dose of x-rays through his head
. For doing so, the American government paid the Israeli government 300 million Israeli liras a year. The entire Health budget was 60 million liras. The money paid by the Americans is equivalent to billions of dollars today.