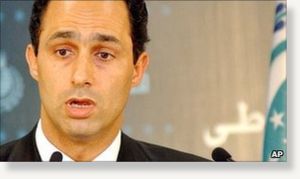 The sons of former Egyptian leader Hosni Mubarak have been detained amid investigations into corruption and state violence, police and media say.
The two sons, Alaa and Gamal, who had earlier been taken for questioning, are to be held for 15 days.
Gamal, the younger son, was once widely seen as a possible successor to his father as president.
Hosni Mubarak has also been questioned, but he was taken to hospital after reportedly suffering heart problems.
The former leader, 82, stood down on 11 February following an 18-day popular uprising against his rule.
State television said on Tuesday that he had suffered a heart attack, though other reports indicated that he was well enough to undergo further questioning.