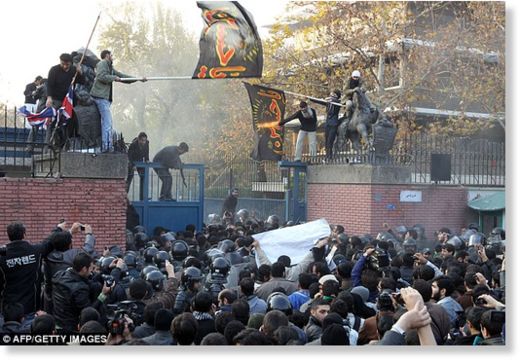 Britain said Wednesday it was evacuating diplomats from Tehran a day after Iranian protesters shouting "Death to England" stormed the British Embassy compound and a diplomatic residence, tearing down the British flag, smashing windows, defacing walls and briefly detaining six staff members in what appeared to be a state-sponsored protest against Britain's tough new economic sanctions against Iran.
The attack was the most serious diplomatic breach since the traumatic assault on the United States Embassy after Iran's Islamic Revolution in 1979. Britain's foreign secretary, William Hague, expressed outrage over the attack, saying Britain held Iran's government responsible and promising "other, further, and serious consequences."
In a statement early on Wednesday, the Foreign Office in London said the British authorities believed "the safety of our staff and their families is our immediate priority. In light of yesterday's events and to ensure their ongoing safety, some staff are leaving Tehran."
The statement did not go into detail or say whether the embassy would remain open.