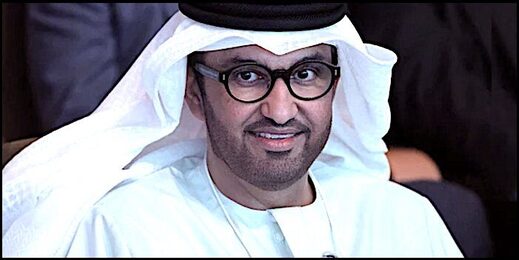 COP28 President and Chief Executive of the UAE state oil company Adnoc,
Sultan Ahmed Al-Jaber let the cat out of the bag
this week when he said there was
"no science" that says phasing out fossil fuels will achieve a cap on global warming of 1.5°C.
In an interview with the impressively self-important
Irish politician Mary Robinson,
he
demanded to be shown
a roadmap for sustainable socioeconomic development
"unless you want to take the world back to caves". You would have had a heart of stone not to enjoy the antics of the
BBC green activist-in-chief Justin Rowlatt
as he tried to finesse Al-Jaber's remarks. What a creative chap to write a BBC story about it headed, '
Is the world about to promise to ditch fossil fuels?
'
Rowlatt claims that the UAE has recognised the world has to kick its addiction to unabated fossil fuels and has decided to put itself decisively on the right side of history by trying to own the decision.
"But yes, at the same time it is planning to increase capacity and sell even more oil,"
he helpfully added.
Other more realistic interpretations are available.
The world will need as much, if not more, fossil fuel in 2050
as it consumes today, and its biggest customers will be those who are too virtuous to drill and frack the hydrocarbons for themselves. As is usually the case,
the meek are unlikely to inherit the Earth.