Ali Abdullah Saleh accuses Gulf states who have been meeting to discuss his fate of trying to mastermind 'coup'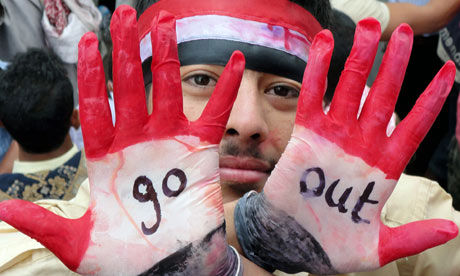 Hopes for a peaceful resolution to political turmoil were fading on Friday as President Ali Abdullah Saleh backed away from a plan being drawn up by Gulf states to broker an end to his 33-year rule.
Speaking at a rally of his supporters, Saleh lashed out at the Gulf states who have been meeting in Riyadh, Saudi Arabia, to discuss his fate. He accused them of trying to mastermind a "coup" against his country's democracy and of "blatant interference in Yemeni affairs".
Violent demonstrations continued, with three protesters killed in the city of Taiz, the commercial capital. Protesters carrying the bodies of five people killed earlier in the week to a graveyard came under fire from soldiers from the Republican Guard, an elite force headed by the president's son.
Plain-clothed men were seen crouching on nearby rooftops firing rifles and lobbing tear-gas canisters down on the protesters.