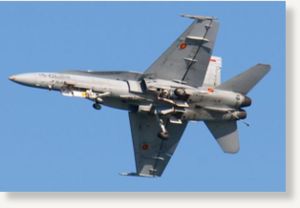 Spain, Norway, and Denmark have announced that they are joining the large-scale military intervention into Libya.
The Spanish Defense Ministry said on Saturday that the country has sent four F-18 fighter jets and a refueling aircraft to Italy to take part in the operation over Libya starting on Sunday, AFP reported.
"These planes will carry out patrol missions and will be operational from tomorrow (Sunday)," a statement issued by the Spanish Defense Ministry read.
On Saturday, Norway announced that six Norwegian F-16 fighter jets will be joining the Western-led military operations against Libya over the next few days.
The warplanes will take off right at the beginning of next week and will be based in Sicily, Italy, according to the announcement.
Denmark has announced that it will be contributing up to six F-16 warplanes and a transport plane for the Western-led intervention into Libya.
On Saturday, Danish Prime Minister Lars Loekke Rasmussen said parliament supports the decision to deploy warplanes to Libya.
Foreign forces launched airstrikes against Libya after officials of a number countries meeting in Paris on Saturday ordered a large-scale military intervention into the country in order to end the assaults on civilians launched by Libyan ruler Muammar Gaddafi's forces.