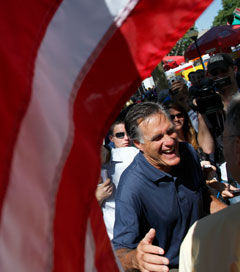 Mitt Romney got a lot of press for telling a heckler at the Iowa State Fair that "corporations are people." He did not go on to sing that Patti Smith song,
People Have the Power
.
But corporate "people" certainly do. Their power was on display this week, both in Washington and among the Republicans campaigning for the nomination.
Ordinary People
Here's Romney's quote in context:
"Corporations are people, my friend... of course they are. Everything corporations earn ultimately goes to the people. Where do you think it goes? Whose pockets? Whose pockets? People's pockets. Human beings, my friend."