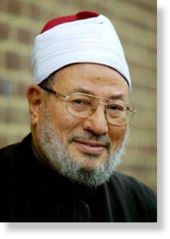 The French government will deny entry to Sheik Yusuf al-Qaradawi, an influential Egyptian preacher, if he accepts an invitation from the Union of French Islamic Organizations (UOIF) to visit France next month, a close aide to President Nicolas Sarkozy said Sunday.
Al-Qaradawi is one of the most widely respected Sunni Muslim clerics in the Arab world and a household name in the Middle East.
A former member of Egypt's Islamist Muslim Brotherhood, he is independent of the group today but remains close to it.
The UOIF, one of three Muslim federations in France, is also close to the Muslim Brotherhood.
Source: Reuters