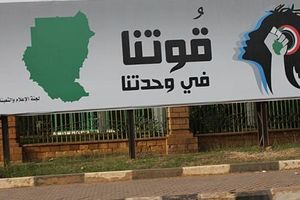 The Sudanese ambassador to Tehran says the US and Israel play a key role in sowing seeds of discord and fueling the country's civil war and the unrest in its south.
"The Israeli intelligence agency, Mossad, is likely to be escalating the conflict," Suleiman Abdel Towab told Press TV on Sunday.
He also said a senior Mossad official has, in a report, singled out seven countries as "real threats" to Israel, among them are Iran and Sudan.
The envoy added Israel sees his country as a threat as Sudan is an Islamic state and very popular in Africa.
"Sudan is like a bridge between Africans, Arabs and Muslims, So Israel and the US seek to control the Sudanese government and impose sanctions on it," he said.
Towab underscored Sudan has shown it enjoys good potential for development and progress, managing to make great strides in times of sanctions and economic hardships.
"Sudan is the second biggest country after China in terms of economic growth," the Sudanese ambassador said.