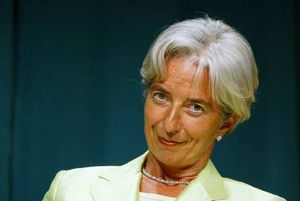 A French court which is investigating International Monetary Fund chief Christine Lagarde has cited "anomalies and irregularities" in her decision to approve a huge payment to a businessman when she was finance minister, a French news website said.
Mediapart published a 9-page court document explaining the legal reasoning behind an August 4 ruling that Lagarde should be placed under investigation for approving the 285 million euro payment to Bernard Tapie, a friend of President Nicolas Sarkozy.
The document by a commission of three judges at the Court of Justice of the Republic, which has special powers to judge ministers, states that Lagarde appeared to have contributed to events whose legality was uncertain.
"The minister seems to have personally contributed to the events, notably by giving voting instructions to the State's representatives" in the arbitration procedure, the court document published on Mediapart read.