World food inflation is the crisis of the moment. Prices for basic commodities are rising across the world, causing enormous distress, particular for the poorest and most vulnerable.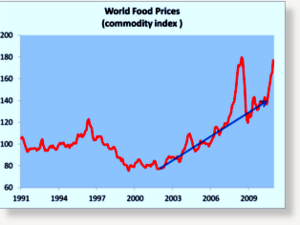 There are several ideas running around the internet seeking to explain this appalling state of affairs. As I mentioned in previous posts, these explanations can be grouped into three broad categories;
* Rising demand due to rapid economic growth in emerging markets, expecially in Asia:
* Supply shocks reducing the quantity of available food:
* Speculation and the search for higher yield, which has been facilitated by negative real interest rates in the developed world.
There is a difficulty in adjudicating between these three explanations. All three are, to some extent, true. They are not mutually exclusive. Nevertheless, we need to arrive at a relative weighting. Which of these three factors is the real driver behind the devastating rise in food prices?