Munich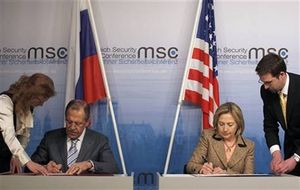 - A new U.S.-Russia nuclear arms control treaty went into effect Saturday, securing a key foreign policy goal of President Barack Obama and raising hopes among officials on both sides that it will provide the impetus for Moscow and Washington to negotiate further reductions.
"The treaty marks significant progress toward President Obama's vision of a world without nuclear weapons," U.S. Secretary of State Hillary Rodham Clinton said after exchanging ratification papers with Russian Foreign Minister Sergey Lavrov on the sidelines of an international security conference in Munich.
"Partnership with Russia is vital to our continued progress and to all that we hope to accomplish," she said. "We must build the habits of cooperation that let us rise above our differences to address urgent matters of global security together."
The New START treaty - the first major revamping of nuclear disarmament deals since the late Cold War era - was approved by the U.S. Senate in December after a bruising fight during which Obama pressed strongly for its passage. Russia ratified the deal last month.