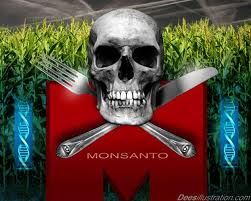 Eons ago man's violence was limited to throwing stones and wooden spears. Advances in metallurgy led to the use of sharp blades, swords, and lances. Guns, rifles and cannons soon followed - along with machines doing yet more violence to nature such as cutting down entire forests and strip mining.The last century's violence, however, was unparalleled. According to the World Watch Institute, the 20th century saw the highest percent of humans ever dying in war - via atomic weapons and gas chambers. Environmental violence accelerated in ways that parallel human violence.
However, these transgressions may turn out to be but child's play compared to what is now under way - a selective elimination/recreation of virtually all of life on earth, for profit. Conglomerates, for example, have bought up competing seed companies, destroying most of their heritage seed stocks and replacing them with only patented genetically altered seeds - what
Time magazine
has called the
Death of Birth
. Such waves of "bioviolence" actually begin when companies microscopically attack and breach a seed's tiny nuclear membrane using a gene ballistics gun. A fish's genes, for example, can be blasted into a tomato's foreign nucleus, a snake gene into a flower's, and so on. Due to this hidden micro-violence, new forms are artificially and forcibly created. Some are employed for food, fiber, chemical and pharmaceutical production, with the latter process called biopharming.