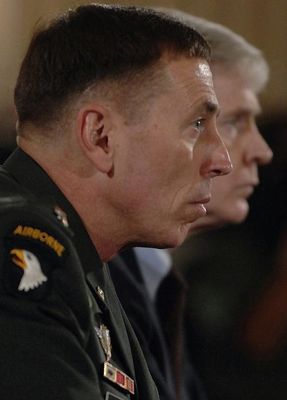 The first four Directors of the CIA (from 1947-1953) were military officers, but since then, there has been a tradition (generally though imperfectly observed) of keeping the agency under civilian rather than military leadership. That's why George Bush's 2006 nomination of Gen. Michael Hayden to the CIA provoked so many objections from Democrats (and even some Republicans).
The Hayden nomination triggered this comment from the current Democratic Chairwoman of the Senate Intelligence Committee, Dianne Feinstein: "You can't have the military control most of the major aspects of intelligence. The CIA is a civilian agency and is meant to be a civilian agency." The then-top Democratic member of the House Intelligence Committee, Jane Harman, said "she hears concerns from civilian CIA professionals about whether the Defense Department is taking over intelligence operations" and "shares those concerns." On
Meet the Press
, Nancy Pelosi cited tensions between the DoD and the CIA and said: "I don't see how you have a four-star general heading up the CIA." Then-Sen. Joe Biden worried that the CIA, with a General in charge, will "just be gobbled up by the Defense Department." Even the current GOP Chair of the House Intelligence Committee, Pete Hoekstra, voiced the same concern about Hayden: "We should not have a military person leading a civilian agency at this time."