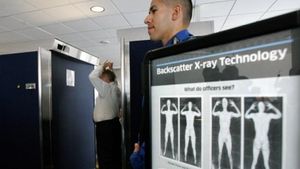 Despite the firestorm of controversy over the use of high-tech body scanners at airports, the hundreds of millions of dollars that the Transportation Security Administration is spending or looking to spend on them makes it unlikely that they'll be getting shelved anytime soon.
Each scanner costs about $130,000 to $170,000, the agency said, and President Obama's budget request for this year calls for $88 million to buy and install 500 new scanners.
The TSA already has already spent $80 million on body scanners, including $73 million received in stimulus funds.
Needless to say, the technology is big business, and the two companies that supply the scanners to the TSA, L-3 Communications and Rapiscan Systems,
have a record of using high-powered political operatives and lobbyists to influence lawmakers
. A number of other companies also are vying for future government contracts.