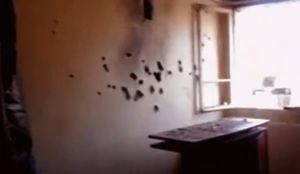 Mohamed Merah launched a real 'counter assault' on fifteen elite French police officers who stormed his premises armed with only non-lethal weaponry, RAID chief Amaury de Hautecloque, said in an interview with Le Monde.
­The police had blown the doors and windows open and sent robots with thermal imaging and night vision cameras to search the flat. Merah was discovered in the bathroom standing in 30cm of water wearing a bullet-proof vest beneath his black Arab robe.
"He was waiting in a fighter's stance with unflinching determination," Hautecloque said. "He came out to meet us with three colt 45s of 11.43 caliber."
"This is the first time in my life I've seen someone as we launch an assault come and lead the assault against us," he added.