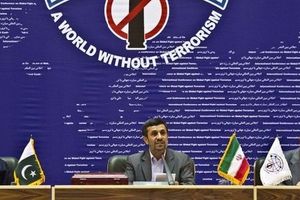 Iranian President Mahmoud Ahmadinejad has accused the US of using the September 11 attacks as a pretext to invade Iraq and Afghanistan and to divert the American public opinion from its domestic issues.
"Some believe that the motive behind the September 11 attacks was to ensure the safety of Israel, foment insecurity in regional countries, divert the US public opinion from the chaotic economic situation in the country and fill the pockets of uncivilized belligerent capitalists," President Ahmadinejad said in an address to a two-day anti-terrorism conference on Saturday, IRIB website reported.
"Two years after the incident that provided an excuse for the invasion of two countries (Afghanistan and Iraq), led to the killing, injuring and displacing of millions... the US government, under pressure from the public opinion, tasked a group to investigate the reason behind the attacks. But the real truth has been kept from the Americans and the world," he added.