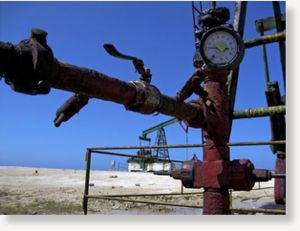 Cuba on Tuesday announced plans to drill five deepwater oil wells in the Gulf of Mexico beginning this summer, expressing confidence that its efforts will be rewarded with major new energy finds.
"We're about to move to the drilling phase," said Manuel Marrero, an official with the government authority tasked with overseeing Cuba's oil sector.
"We're all really hopeful that we will be able to discover large reserves of oil and gas," said Marrero, who added that the ventures would be undertaken with the help of unspecified foreign companies.
He said the deepwater wells were to be drilled between 2011 and 2013, and would be in waters ranging in depth between 400 meters (a quarter mile) and 1,500 meters (1.6 miles). He did not specify which countries would be among the foreign partners working with Havana on the project.
Some studies estimate Cuba has probable reserves of between five and nine billion barrels of oil in its economic zone in the Gulf of Mexico. Cuban authorities have said their crude reserves are as high as 20 billion barrels.
In 2010, Cuba produced 21 million barrels of oil, about the same as it had extracted the previous year, representing a little less than half of its annual energy needs.