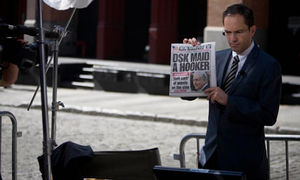 Newspaper and five of its journalists face lawsuit amid spate of leaks about alleged sexual attack
The hotel maid at the centre of the attempted rape case against the former head of the IMF, Dominique Strauss-Kahn, is suing the
New York Post
for libel after the newspaper accused her of working as a prostitute.
The lawsuit was filed against the Post and five of its journalists after a stream of articles over the weekend that claimed she had engaged in sex work both in the Sofitel hotel where Strauss-Kahn had been staying at the time of the alleged assault and afterwards when the maid was under the protective care of New York police.
The legal action, reported by Reuters, says that "all of these statements are false, have subjected the plaintiff to humiliation, scorn and ridicule throughout the world by falsely portraying her as a prostitute or as a woman who trades her body for money and they constitute defamation and libel per se."