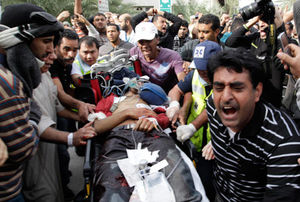 Claims of Civilian Killings, Disappearances, Torture, Chemical Warfare Agents and Organ Theft From Victims of State Violence
When Saudi-led military forces intervened in Bahrain on March 14, it was declared by the Bahraini government and its allies among the Gulf Cooperation Council (GCC) states of Saudi Arabia, Kuwait, Qatar, Oman and the United Arab Emirates that the unprecedented move was a matter of urgency, needed to "restore order and stability" to the tiny Persian Gulf island kingdom. An arcane GCC defence pact was invoked - the Arabian Peninsula Shield - even though legal experts pointed out that such a provision was only applicable in the event of one of the six Gulf states coming under attack from an external enemy.
Three weeks later, the real nature of the Saudi-led intervention is becoming brutally clear. It can now be seen as an invasion that has led to foreign occupation, lawlessness and several categories of crimes against humanity committed by the very forces purported to bring order. In one sense, the rhetorical justification for invoking the Peninsula Shield force, "to restore order and stability", is literally correct. The aim was to restore the order and stability of the US-backed Al Khalifa Sunni dictatorship that had sat perilously on top of an oppressed Shia majority for decades. On February 14, the Shia majority (60-70 per cent of the indigenous population) along with disenfranchised Sunni and non-religionists from working class communities rose up in numbers that had never been seen before. Inspired by revolutions in Tunisia, Egypt and elsewhere in the Arab region, Bahrain's surging pro-democracy movement rocked the royal rulers.