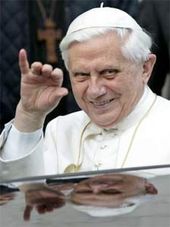 A priest in a town south-east of Paris was hit with sexual assault and child pornography charges after a 22-year-old former choirboy accused him of abuse, a prosecutor said.
A police search of his home also found pictures of a young parishioner.
The new case added to a wave of sexual abuse allegations made by church members across Europe in recent weeks that have put the Vatican on the defensive and fueled a growing sense of crisis.
Some of the cases have raised questions about whether Joseph Ratzinger acted aggressively enough against priests under his supervision as an archbishop and cardinal before he became Pope Benedict XVI.
French bishops said in a letter to the pope on Friday that they were ashamed of the 'abominable acts' of child sexual abuse by priests.