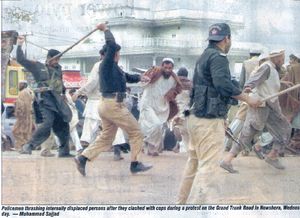 We at PakNationalists.com strongly support the military operation against
the terrorists in northwest Pakistan who are disguised as 'Pakistani Taliban' and are killing Pakistanis while claiming to fight American occupation of Afghanistan.
The author, Mr. Roedad Khan, a former senior bureaucrat in the Pakistani government, makes a valid point here. The high standard of proficiency that the Pakistani military has shown in Swat is not matched by the elected government in Islamabad which failed miserably in handling the influx of refugees. Considering this yardstick, a military action in Waziristan to flush out foreign agent Baitullah Mehsud and his Indian/American/Afghan supported army is necessary but we might end up with a similar or probably even a worse situation. This article raises a central point: The original problem is not the sanctuaries inside Pakistan. It's the American failure to bring peace among all warring factions inside Afghanistan.