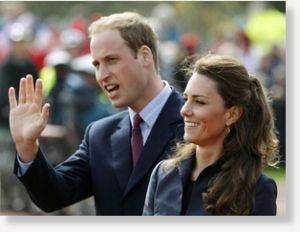 Britain's government has begun the process of reviewing the ancient, discriminatory rules of royal succession, so that if Prince William and Kate Middleton's first child is a girl she would eventually become queen.
The current rule that puts boys ahead of their sisters "would strike most people as a little old-fashioned," Deputy Prime Minister Nick Clegg said Saturday.
It is just two weeks until the prince and Middleton get married at London's Westminster Abbey, and Clegg said many people may agree that the rules should be changed so that if the couple's first child were a girl, she would eventually inherit the throne - even if she had a younger brother.
"I think most people in this day and age would think it's worth considering whether we change the rules so that baby girl could become the future monarch," he told reporters. "I think that would be in keeping with the changes that are happening with society as a whole."
The Cabinet Office said the government accepts that some aspects of the succession rule "could be discriminatory." It said the government has started discussions with British Commonwealth nations that would be directly affected by any change because they recognize the British monarch as their head of state, but declined to release details of those talks.