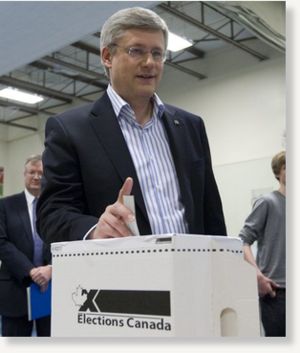 The campaigning is over, the opinion surveys have all been done and now the only poll that counts is underway.
Canadians are voting today in the fourth federal election in seven years and, by most accounts, it's going to be a game-changer.
A buoyant Stephen Harper cast his ballot at an elementary-junior high school in his Calgary Southwest riding, with wife Laureen and their two children at his side.
Liberal Leader Michael Ignatieff and his NDP rival, Jack Layton, both voted in their Toronto ridings earlier in the day, reflecting what is expected to be the most significant dynamic of the national ballot.
Ignatieff, a relative unknown going into the 36-day race, got a boost early on but his support appeared to fade as the campaign evolved.
Layton's NDP surged to unprecedented levels in Quebec after the leaders' debate and appeared to gain momentum across Canada in the last two weeks of the campaign.