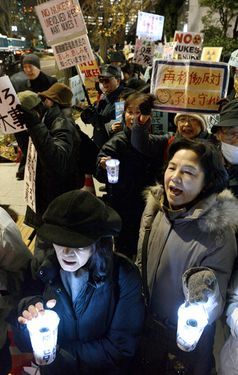 In their first mass protest this year, anti-nuclear protesters rallied outside the prime minister's office Jan. 11 and denounced the Shinzo Abe administration for failing to commit to reducing Japan's reliance on nuclear energy.
Organizers of the Friday-evening rallies, which began in March 2012 and were held throughout the year, say the protests will continue.
"Abe is putting economic measures first, but those who benefit from spending on public works will be general contractors," said 61-year-old Osamu Ishigaki from Yokohama, who joined the rally straight from work. "Investing in renewable energy would offer better prospects for the overall economy."