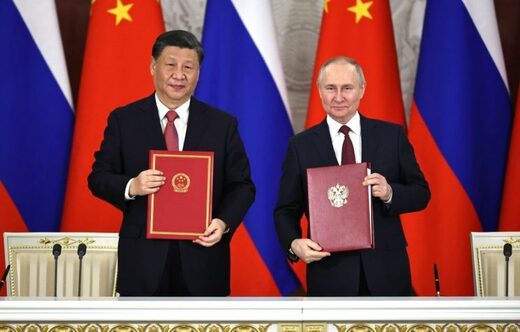 The West is stuck between the public sentiment which it contrived and the reality on the ground,
Alastair Crooke writes.
Consequential Strategic Change
- Upon leaving his meeting with Vladimir Putin, Xi Jinping said to Putin,
"Change is coming that hasn't happened in 100 years - and we are driving this change together".
The 'Entente' was sealed during hours of talks over two days, and amidst a plethora of signed documents. Two powerful states have formed a duality that, in marrying a gigantic manufacturing base to
the
pre-eminent raw materials supplier and the advanced weaponry and diplomatic nous of Russia, leaves the U.S. in the shade. A seat in the shadows (assumed through volitation, or inability to contemplate such radical transition) reflects the U.S. with its back turned towards participation in the unfolding multipolar world.