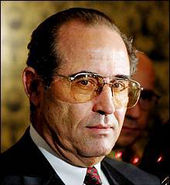 President Obama's policy of direct diplomacy with Iran may buy Tehran enough time to produce nuclear weapons, Shabtai Shavit, former chief of the Mossad intelligence agency, warned in an exclusive WND interview today.
"I don't believe there is a political solution which can be achieved through negotiations with Iran," he said.
"My concern is that until Obama finishes his learning curve of the subject, the Iranians are going to have maybe the first or even more nuclear bombs."