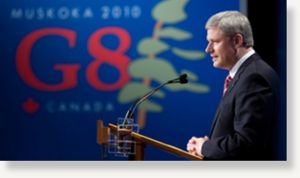 Sheila Fraser's draft report says government failed to act 'transparently' in spending $50 million
The Harper government did not act "clearly" and "transparently" when it sought permission from Parliament to spend $50 million on a G8 fund that delivered projects last year in a Conservative riding, according to a draft report by the auditor-general.
Further, according to the document obtained Monday by Postmedia News, the Conservative government failed to adequately keep records to explain how the 32 projects were chosen for Parry Sound-Muskoka, the southern Ontario riding represented by Tony Clement, the industry minister.
The federal campaign was hit with a bombshell in media reports that said Sheila Fraser concluded in a draft audit prepared in mid-January that the government had misinformed MPs and perhaps had even broken the law through the way it sought funds in late 2009.
Senior Conservatives responded by saying that initial audit was not valid because it was overtaken by another draft written the following month by the auditor-general's office which wasn't as critical.
That second report-obtained by Postmedia News and dated Feb. 1 -does not flatly state that the Tories misinformed Parliament. But it is critical of the Conservative government -which first came to office in 2006, promising greater transparency -for failing to be adequately transparent in this instance.