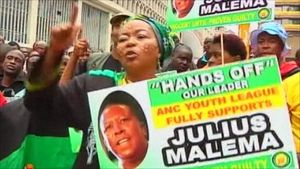 South Africa's high court has ruled that the anti-apartheid song Shoot the Boer is hate speech and banned the ruling ANC from singing it.
Afrikaans interest group Afriforum had complained about ANC youth league leader Julius Malema singing the song, which refers to white farmers.
Mr Malema and other ANC leaders had argued that the song was a celebration of the fight against minority rule.
They said the words were not meant to be taken literally.
The high court upheld a ruling by a lower court and ordered Mr Malema to pay legal costs.
"Those words are derogatory, dehumanising," said judge Collin Lamont, adding that in post-apartheid South Africa, all citizens are called to treat each other equally.
He urged the ANC to find new customs which did not bring disunity.