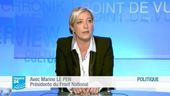 After several polls showed Marine Le Pen more than holding her own against rivals in a hypothetical presidential match-up, FRANCE 24 sat down with the far-right leader for a wide-ranging interview touching on Europe, immigration and nuclear energy.
Riding high on strong showings in a handful of French polls on the 2012 presidential election, National Front leader Marine Le Pen has had an early start on the campaign trail.
The far right politician, who took over from her father as head of the party in January, sat down with FRANCE 24 journalist Roselyne Fèbvre for an interview covering a wide range of domestic and international issues. Here are some of the highlights.
President Nicolas Sarkozy
"
France is collapsing because of a French president who is no longer running anything, who is governing on impulse or emotion, depending on the circumstances.
And France's interests and image have suffered for it."