[Editor's note: Former UK ambassador to Uzbekistan, Craig Murray, has had many of his articles published by in the mainstream press over the past 15 years. Over the past few weeks however, all mainstream press outlets (including the supposedly 'liberal' ones) that were contacted with a view to publishing this particular piece refused to do so, for unspecified reasons.]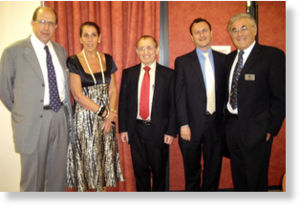 The picture on the left shows Matthew Gould, second from right, British Ambassador to Israel, at a meeting of the Leeds Zionist Federation that was also the opening of the Leeds Hasbarah Centre. The Leeds
Zionist Federation
is part of the Zionist Federation of Great Britain and Ireland, motto "Speaking Up for Israel." A collection was made at the meeting to send packages to members of the Israeli Defence Force.
On 29 May 2011 The
Jerusalem Post reported
: "British Ambassador Matthew Gould declared his commitment to Israel and the principles of Zionism on Thursday".
Remember this background, it is unusual behaviour for a diplomat, and it is important.
The six meetings between British Ambassador to Israel Matthew Gould and Minister of Defence Liam Fox and Adam Werritty together - only two of which were revealed by Cabinet Secretary Gus O'Donnell in his "
investigation
" into Werritty's unauthorised role in the Ministry of Defence - raise vital concerns about a secret agenda for war at the core of government, comparable to Blair's determination to drive through a war on Iraq..
This is a detective story. It begins a few weeks ago, when the Fox-Werritty scandal was first breaking in the media. I had a contact from an old friend from my Foreign Office days. This friend had access to the Gus O'Donnell investigation. He had given a message for me to a trusted third party.
Whistleblowing in the surveillance state is a difficult activity. I
left through a neighbour's garden
, not carrying a mobile phone, puffed and panted by bicycle to an unmonitored but busy stretch of road, hitched a lift much of the way, then ordered a minicab on a payphone from a country pub to my final destination, a farm far from CCTV. There the intermediary gave me the message: what really was worrying senior civil servants in the Cabinet Office was that the Fox-Werritty link related to plans involving Mossad and the British Ambassador to Israel, Matthew Gould.