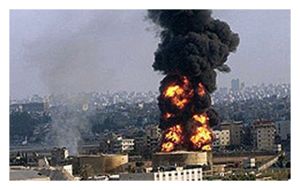 Today the Israeli intelligence website
DEBKAfile
claimed that their usual unnamed sources reported that one of the explosions in Iran was actually caused by a failed attempt to affix a nuclear warhead to a Shahab-3 medium-range ballistic missile.
According to the Mujahedin-e Khalq (MEK), an organization listed as a terrorist group by
the U.S. State Department
which is oddly characterized as an "Iran exile group" by
USA Today,
the explosion wasn't an accidental incident at an ammunition depot but instead was a missile base run by the Revolutionary Guard.
DEBKAfile is a site which is given a disturbing amount of credence given their less-than-stellar track record in terms of accuracy and their highly questionable links to Israeli intelligence agencies like Mossad.
The nature of most of DEBKAfile's reports is also suspicious, given that they tend to solely cite anonymous, supposedly insider sources.
I could easily claim I have insider sources and publish disinformation based on these "sources" that I have made up, but of course I'm not going to do that because this site is about getting at the truth, not clouding the discussion with even more lies.
Due to the incredibly unreliable nature of all of DEBKAfile's reports, this claim should be taken with a large grain of salt and not accepted as fact.
DEBKAfile consistently presents the hawkish Israeli position, demonizing Iran, Palestine, and any other nation that stands up to Israel's crimes.