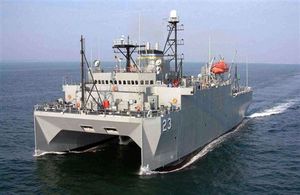 The U.S. Navy ship that got into a scrape with five Chinese vessels last weekend in the South China Sea was looking for threats such as submarines, presumably Chinese, in waters that China claims as its own, defense officials acknowledged Tuesday.
The United States maintains that the unarmed USNS Impeccable was operating legally in international waters when it was surrounded and harassed by the Chinese. Beijing responded hotly to a U.S. protest over Sunday's incident, and neither nation is backing down, even as they prepare for a much-anticipated first meeting between President Barack Obama and Chinese President Hu Jintao next month.
Although they would not be specific about the Impeccable's mission when it was intercepted by the Chinese ships,
two defense officials said the ship is designed and equipped for sub-hunting work and was part of a calculated U.S. surveillance operation in the disputed South China Sea.