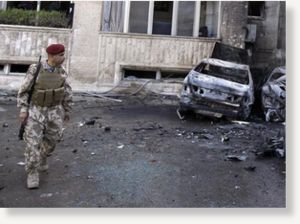 The death toll for a grisly hostage situation at a government building in northern Iraq continued to rise Wednesday as grieving families buried the victims and Iraqi officials questioned how it could have happened.
Gunmen wearing explosives belts under military uniforms charged into the provincial council building in Tikrit, north of Baghdad, Tuesday afternoon, shooting hostages execution-style, and spraying bullets and grenades throughout the building during the five-hour standoff.
Dr. Raied Ibrahim, the health director for Salahuddin province where the attack took place, said 57 people have so far been counted dead and 98 wounded.
Funeral processions on Wednesday crisscrossed the nearby city of Samarra, where officials said many of the victims lived, while those from Tikrit, 80 miles (130 kilometres) north of Baghdad, had mostly already been buried.
Prime Minister Nouri al-Maliki said he would launch an investigation into how the government compound could so easily be overrun by insurgents.
"Such crimes will not deter our people and security forces from chasing and eliminating them," al-Maliki said. "The criminals who planned and carried out this crime will not escape punishment."